Web designing is a form of technical art that is essential to create a website. A website designer works on a set of core fundamentals to design a website. Few web designers and developers have self-learned the art of web designing which would actually not suffice. Rather, certification as a web designer will give you a good scope. Moreover, getting web design certifications helps you to prove that you are qualified and ready to work as a professional web designer, being paid for the job.

Statistics from the year 2016 reveals that the mean salary of an IT professional holding a certification and qualification in web designing and development crosses over $70,000 per annum. This scooping benefit makes these web design certifications highly sought after.
Also Read: Scope of Web designing in India
To be an outstanding web designer you should have a sound knowledge in web programming platform, basic web designing applications and good creativity. Adding to this, as a web designer, you should exhibit excellent problem-solving skills, adapt to current trends in software and technology and also have impeccable verbal and written communication skills.
As in other areas of IT, various certifications is also available in web designing. Few of such web design certifications are listed below.
Let's take a look into the top web design certifications

1. Microsoft Developer Certifications
Microsoft offers a great avenue when it comes to learning about a new software development. Acquiring certification through exams and skill endorsements will enable you to gain expertise systematically and succeed in the software development profession.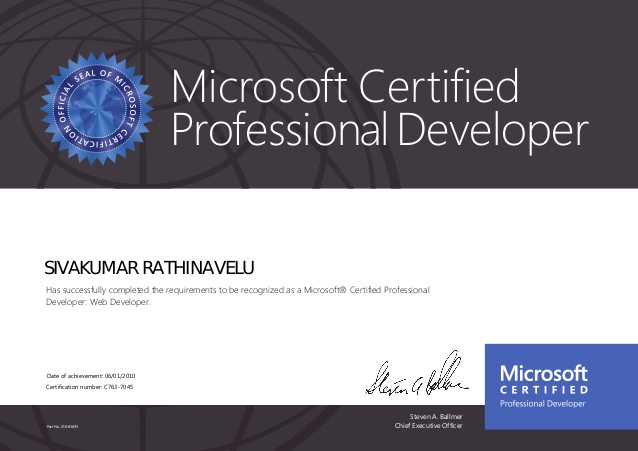 Where to start with web designer certifications? This predominantly depends on your skills and work background. If you are a fresher in software development with less than one year of work experience, two primary credential levels will best suit you. They are,
Microsoft Technology Associate (MTA) level

Microsoft Certified Solutions Developer (MCSD) level
MTA: HTML5 Application Development Fundamentals (98-375)
In order to endorse and certify your knowledge in the fundamental skills that is required to start a career using Microsoft technologies, Microsoft Technology Associate (MTA), technology certification was exams rolled out. MTA certifications leverage the passion of those interested in the field of technology. MTA certifications comprises a wide range of fundamental technical ideas, evaluates and certifies core technical knowledge and increases technical probability.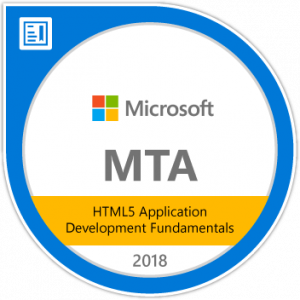 HTML5 Application Development Fundamentals credential is a basic certification that adds to it the know-how of programming websites and apps using HTML5.
In order to succeed in the 98-375 exam you should have a sound knowledge in fundamentals, including Cascading Style Sheet and JavaScript. You should also have hands-on experience in modern technologies through attending relevant training programmes or engaging with tutorials and examples found on MSDN and Microsoft Visual Studio.
Only students, faculty, and staff belonging to accredited academic institutions that are authorized MTA examination centres can access the MTA. Academic institutions that have a MTA Campus License or MTA vouchers become places where MTA exams are mainly available. These examinations are accessed through an internet-based measuring program that allows delivery of exams anytime through any workstation that is connected to the internet in an accredited academic institute. Instructors are the exam representatives.
Validation by MTA is based on 80% familiarity and 20% skills. Microsoft Technology Specialist (MCTS) is the next level Microsoft certification that requires practical experiments on the Microsoft platform. Through the DreamSpark Program, Microsoft Corporation makes available its whole developer toolset open for scholars to download and install at no charges.
Every MTA certification exam includes broad technology areas such as,
Managing the application life cycle (20–25%)

Building the user interface (UI) by using HTML5 (25–30%)

Formatting the user interface by using Cascading Style Sheets (CSS) (20–25%)

Coding through JavaScript (30–35%)
Applicants must pass only one exam to get a MTA certification. The MTA Certification expires in five years.
Who should take this exam?
In order to take this exam, candidates should have a sound knowledge of the guides described in the preparation pattern, including CSS and JavaScript. It would be good if candidates are familiar with field-specific concepts. They should also have hands-on experience with related technologies through training courses or by engaging with tutorials and examples available on MSDN and Microsoft Visual Studio.
Exam Details:
Number of Questions: 30-50 questions
Type of Questions: Multiple choice
Passing Score: 70
Time Limit: 50 minutes
Price: 3,696.00 INR

2. Google Mobile Sites Certification
Mobile Sites certification is Google's specialist accreditation that is given to individuals who exhibit knowledge in basic and advanced phases of mobile website designing. This web designing certification is Google's exclusive recognition for specialists in mobile sites.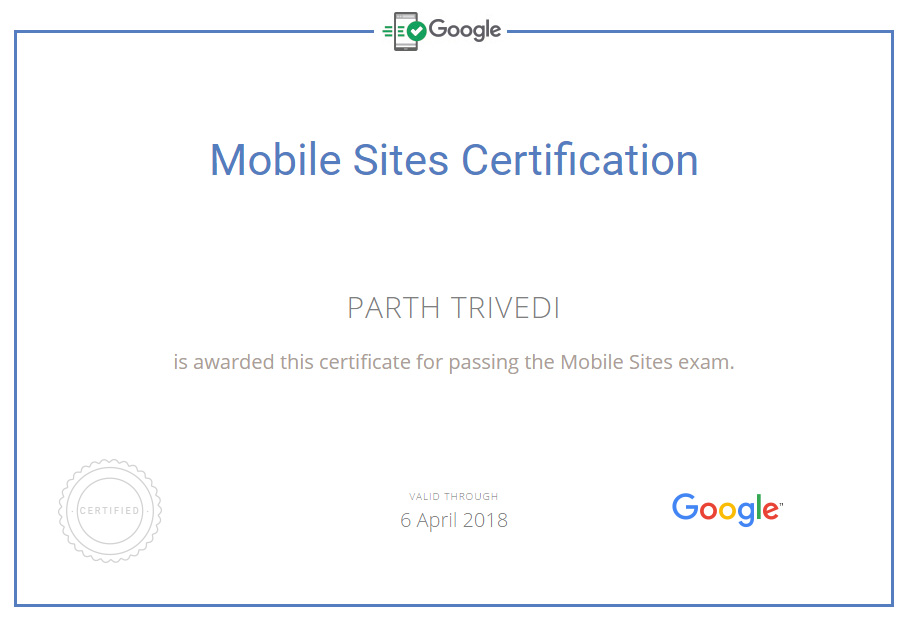 Exam Details:
No. of Question: 65
Question Type: Multiple Choice
Timing: 90 minutes
Passing Score: 80%
Price: Free

3. Adobe Certified Expert (ACE)
An Adobe Certified Expert is one who proves expertise in Adobe software products by fulfilling one or more product-precise proficiency exams required by Adobe.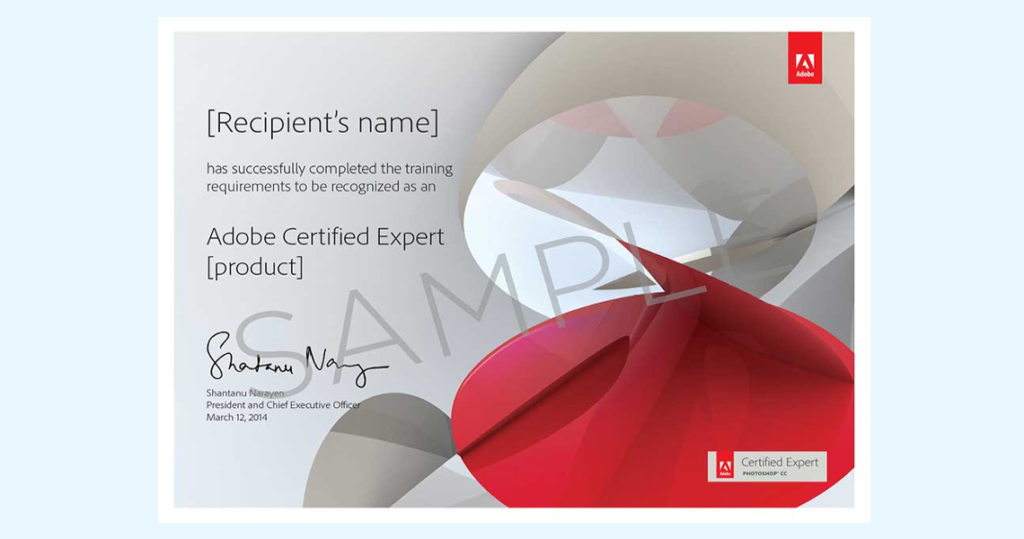 Certifications for precise products such as Photoshop and Dreamweaver is offered by Adobe Corporation. It also offers the professional track that experiments for a broader competency in the many sub-systems of website design.
ACE: Dreamweaver CC 2015 Certification
Typical candidates possess two or three years of hands-on-experience with Adobe Dreamweaver on websites and application projects and also have skills as a web designer. Candidates execute responsibilities involving, website structure, web page layout design, programming and styling page with CSS. A prospective candidate must also have expertise working with JavaScript codes. They should be capable of launching sites via FTP and also be masters in web models. They should be able to construct and deploy pages that can be showcased across all modern browsers and devices.
Who can qualify for this certification:
Web Designer, Web Developer
Exam Details:
Part: 2 Parts
No. of Question: 55
Question Type: Multiple Choice
Timing: 75 Min
Passing Score: 63%
ACE: Photoshop CC 2015
A candidate should have worked two or more years with Photoshop, involving, imaging, publishing and designing environments. The individual should exhibit efficiency in digital asset administration and production. He/she must have also implemented projects in the areas of web, photographic art, photojournalism, advertising design, news and media, video, social media, mobile, and 3-D.
Who can qualify for this certification:
Designer, Photographer, Print Designer, Web Designer
Exam Details:
No. of Question: 57
Question Type: Multiple Choice
Timing: 90 Min
Passing Score: 63%

4. MCSD: Web Applications Solutions Developer
To enable, software and web developers show their expertise in building solutions using both individual-specified and modern cloud technologies, a Microsoft Certified Solutions Developer certification would help. The MCSD certification acts as an international standard for software developers. Specialists wanting to get this web design certification should be familiar with Microsoft tools and languages in order to examine and design enterprise solutions.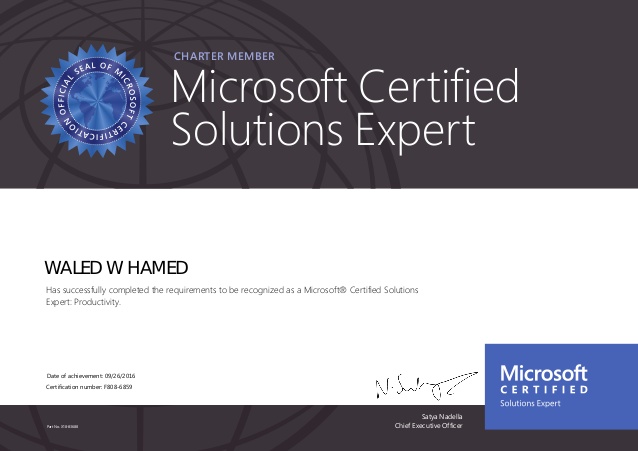 Programming in HTML5 with CSS and JavaScript
Microsoft Exam 70-480 enables the prospects of programming with HTML5, JavaScript, and CSS3. MCSD emphasizes on the aspects of critical thinking and decision-making intelligence that is required for success as a Microsoft Specialist. Using HTML5 for structure, CSS3 for cascading styles and Javascript for dynamic interactivity, MCSD exam focuses on the user interface side of web and application development. Good practice in the above-mentioned criterias is a must before you could take up the exam.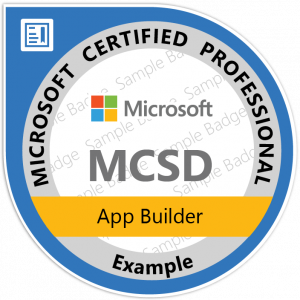 Concentrate on the expertise covered by these objectives:
Implement and manipulate document structures and objects (24%)

Implement program flow (25%)

Access and secure data (26%)

Use CSS3 in applications (25%)
Who should take this exam?
Candidates willing to have this web designer certification must possess one or more years of experience in programming and the required reasoning for application types and hardware/software programs using JavaScript. Additionally, applicants should possess a minimum of two years of experience in developing with HTML5 in an event-driven and object-oriented programming scenario.
Exam Details:
Number of questions: 50 Questions.
Type(s) of questions: Tree Questions.
Passing Score: 700/1000
Time limit: 2 Hours
Price: 4,800.00 INR*

5. W3 HTML5 Developer Certificate
W3 HTML5 Developer Certificate is an internationally recognized accreditation, exhibiting skills and ability in writing HTML5, XHTML, and CSS. Web designing specialists acquire W3 HTML5 Developer Certificate as their primary web designing accreditation in order to validate their basic knowledge that is essential to proceed to more difficult and specialized fields in web designing.
Who can qualify for this certification:
Exam Details:
No of Questions: 70
Question Type: Multiple Choice
Timing: 70 Min
Passing Score: 70%
Price: $95.00

Conclusion
Web designing is a multifaceted, dynamic and evolving field that has promising job prospects. Aesthetically appealing and highly functional web designing continuous to be in great demand for business developments across all sectors. This ensures a promising future in the career as a web designer. The aforementioned web designing certifications will enhance your skills and scope in this domain.